Principal Investigators in the Center for Inverse Design
This page provides brief descriptions of the principal investigators within the Center for Inverse Design. More complete biographical summaries are also available. Principal investigators are organized within their research institutions—the National Renewable Energy Laboratory (NREL), Colorado School of Mines (CSM), Oregon State University (OSU), Northwestern University (NU), Stanford Linear Accelerator Center (SLAC), and the University of Colorado at Boulder (CU).
William Tumas—the Director for the Center for Inverse Design, is also the director of NREL's Center for Chemical and Materials Science. He is responsible for overall leadership, management, technical direction, and workforce development for more than 100 personnel integrating theory, chemistry, and materials science in applied and basic R&D focused on renewable energy including solar energy conversion for electricity and fuels, hydrogen storage and fuel cells, energy storage, and energy efficiency. Full bio.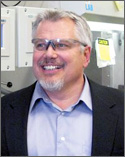 Lawrence L. Kazmerski—the Program Integrator for the Center for Inverse Design, has had more than 30 years experience in line and program management at NREL. In his position as Director of NREL's National Center for Photovoltaics, he has had line management and technical leadership responsibilities for a staff of 185 since 1999 (annual budget of ~$75 million). In 2009, he was appointed as Executive Director for Science and Technology Partnerships, with responsibilities for building partnerships with other laboratories in renewable energy worldwide. He has also had executive experience with several professional organizations, including that as elected President of the American Vacuum Society (AVS) in 1991. He is a member of the National Academy of Engineering, and a Fellow of the American Physical Society (APS), Institute of Electrical and Electronic Engineers (IEEE), and AVS. Full bio.